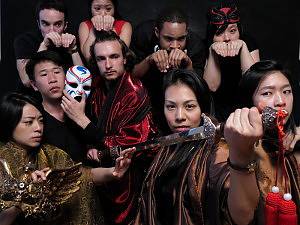 "Behind the Mask, a Play"
June 25 – July 12, 2015
7:30 – 9PM
Yangtze Repertory Theatre presents the U.S. PREMIERE OF "BEHIND THE MASK, A PLAY" by Chinese authors Feng BaiMing and Huang WeiRuo
Theater for the New City, 155 First Ave., NYC (between 9th and 10th Streets)
Wednesdays through Saturdays at 7:30 PM, Sundays at 2:30 PM
Tickets: $25 general admission, $20 seniors & students.
On Wed & Thurs: pay what you can (available day of performance at box office only, advance sales regular price)
Box office: SMARTTIX, www.smarttix.com, 212-868-4444.
Chinese language info and reservations: YangtzeRSVP@gmail.com
An ancient myth about blood and honor reveals the secret life of a Chinese theater troupe in the dark comedy "Behind the Mask – a Play" by Chinese authors Feng BaiMing and Huang WeiRuo, which is being newly adapted by Yangtze Repertory Theatre in a production helmed by Chinese-born director Chongren Fan. The play will be performed in Mandarin Chinese with English subtitles and will be completely accessible for English-speaking audiences. English translation is by Kristen Hung. This U.S. premiere will be presented by Yangtze Rep June 25 to July 12 at Theater for the New City, 155 First Avenue, East Village.
A play-within-a-play takes place in a theater space somewhere in China, where a nine-person troupe is rehearsing for a story about a Chinese mythical hero, Mei Jian Chi. As the myth is popularly known within Chinese culture, it depicts a tyrant, the King of Chu, who orders the death of his two master swordsmiths as part of a ritualized process to forge the world's sharpest blades, using human blood. Their son, Mei, seeking revenge, devises a death ploy with an errant by offering his own living but decapitated head to the King. Fragments of the mythical story switch in and out from snippets of mundane and personal follies of the struggling troupe during rehearsal. Through the play, we get to learn about the troupe and the pressures of the artistic life in contemporary China.
Yangtze will present a new adaptation of the original script that was written in 1999 by Huang WeiRuo and Feng BaiMing. The contemporary part of the play–the troupe's own story–is devised and created by Chongren Fan and ensemble. The play examines the current theatre world through a comic lens and throughout, the characters are aware of their own theatricality. Director Chongren Fan writes, "We get a taste of what's going on in contemporary Chinese theater but also get a chance to explore how a theatre troupe works together to create an ensemble work." The music in the play, composed by Xiren Wang, is new and modern, with a strong innovative approach to ancient Chinese music characteristics.
The production features an ensemble of nine who play various roles in the play. The actors are: Shan Y. Chuang, Esther Chen, Chien-Lun Lee, Xiao Quan, Viola Wang, Neil Redfield, Hui-Shurn Yong, Chris Smith and Francisco Huergo. Set and costume design are by K. K. Wong. Lighting design is by Yi-Chung Chen. Mask design is by Andrew Diaz.
Photo by Jonathan Slaff.
Tags
Organized by
Wayne Chang
Contact
YangtzeRSVP@gmail.com