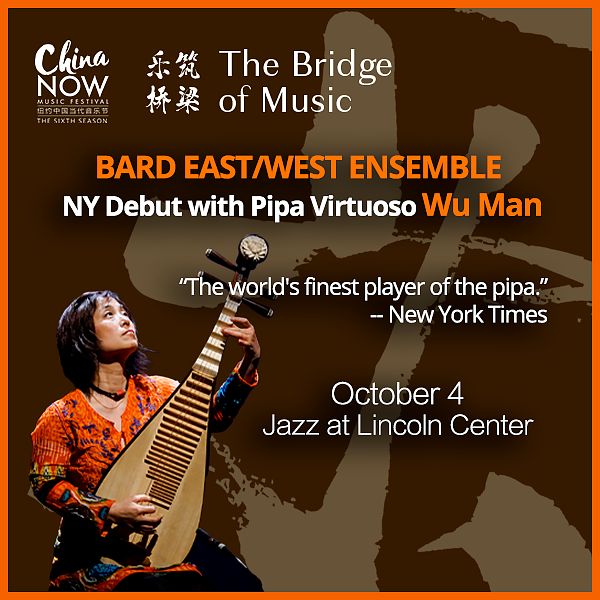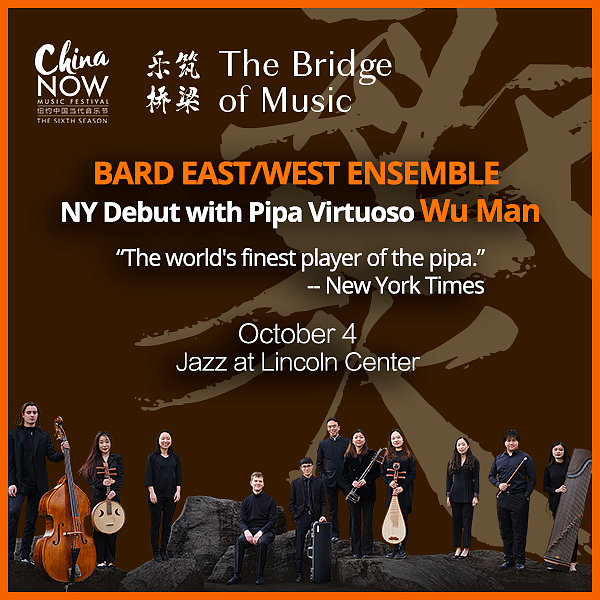 Concert
Bard East/West Ensemble with Special Guest Wu Man - CHINA NOW MUSIC FESTIVAL
Wednesday, October 4, 2023
7PM
Get 20% off by using code BRIDGE
The sixth annual China Now Music Festival returns to the Rose Theater at Jazz at Lincoln Center for the NY debut of the Bard East/West Ensemble, an innovative music group combining Chinese and Western instruments to create a new model of cross-cultural performance.
The program features new arrangements of music by Tan Dun and Zhou Long, as well as several new works by outstanding young composers from China, including members of the legendary faculty of the Central Conservatory of Music.
Internationally renowned pipa virtuoso Wu Man will join the ensemble to perform a new arrangement of Zhou Long's popular pipa concerto, 'King Chu Doff's His Armor'.
Pre-concert talk at 6:15 PM.
Full program details below.
Tian Tian 田田
Temple Drums 社鼓
Shamanic Sacrificial Dance - Drum Ceremony - Wine Songs and Blessings
Huang Wen 黄文
An Ode to Farewell 别赋 concerto for guqin
Bryan Zhe Wang, guqin
Yao Chen 姚晨
Land of the Young 不辞青春 for mixed large ensemble
Jiang Ying 姜莹
Silk Road 丝绸之路
arr. Xinyan Li
INTERMISSION 中场休息
Tan Dun 谭盾 (b. 1957)
Northwest Suite 西北组曲
I. Heavenly God Bestows Rain 老天爷下甘雨
II. Wedding Chamber Pranks 闹洞房
IV. Stone Slab Waist Drums 石板腰鼓
arr. Xinyan Li
Zhou Long 周龙 (b. 1953)
King Chu Doffs his Armor 霸王卸甲 for pipa and mixed ensemble
Wu Man, pipa