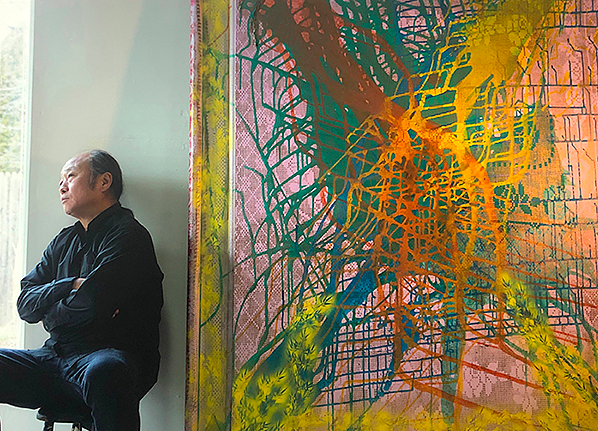 Exhibition
Bamboo Forest
April 23 – May 22, 2022
4 – 5PM
Echoing the spirit of Earth Day, raising awareness for the environmental protection and care of our planet, we are presenting 'Bamboo Forest', a solo exhibition of artist and art professor Seung Lee in April.
Seung Lee's workspace on the North Fork of Eastern Long Island is shrouded with bamboo. Spending many days exercising "bamboo management" during the pandemic, bamboo has naturally emerged as the main theme in his art. He witnessed Bamboo's strength and flexibility and was inspired by how they teach us to stand upright and adapt to hard circumstances then spring back despite adversity.
These virtues learned from mother nature are conveyed in Lee's large-scale paintings, which resonate with us on how to find balance and peace in our lives, thereby improving our health and environment. Surrounded by the display of large-scaled bamboo paintings, audiences will be transported to a bamboo forest from the gallery.
"Art making is a spiritual activity occupied with time (past, present, and future) and space (pictorial and personal). I see the present as the pivot point on which the past and future revolve, the only solid point of orientation for time. I am constantly trying to learn of my inner self, striving to exist more in the present. My ideas are clearest when I'm closest to this point of orientation. I believe it's the only way to create an honest work of art.
Many of the subjects and materials in my works are discovered on the street or in other surroundings: wood scraps, dishes, tree roots, broken TVs, VCRs, and other found materials. I assemble those things for which I have strong feelings with enthusiasm and integrity. Some objects seem content to remain on the street while others beg me to bring them to life.
Those objects seem to have a history, which is compelling to me. I often feel like I am translating a statement they are making through different media — video installation, painting, assemblage sculpture, photograph, and drawing, I amplify their essential quality. The symbols in my works are also based on founded objects, such as columns, trees, dishes, chairs, game boards, etc… I have particular interest in these images because of their relationship to society and the environment. Discarded objects directly comment on the wasteful and disposable nature of society. My recent work deals with the creation of an inventive environment, which provides the viewer with an opportunity to share in a vision of environmental and social down fall and hopefully inspire them to reflect on their own experience and concerns.
As my life grows and changes, so the discarded objects and symbols in my work evolve. This is the nature of time and space. Time moves on, and it's effect on my environment is evident."
Seung Lee is a Korean-American contemporary artist. He is currently a Professor of Fine Art at Long Island University Post. He received a BFA in Drawing from Maryland Institute College of Art in Baltimore, Maryland and an MFA in Painting from Pratt Institute in Brooklyn, New York.
Seung Lee's paintings, drawings, and large-scale installations have been exhibited extensively in the US as well as internationally: Italy, France, Germany, Japan, China, and Korea. He has received numerous reviews in the New York Times, Newsday, Radio Interview with RTHK (HONG KONG), WLIW-FM, Kyoto Times, Korea Daily News, Busan Daily, Art Word magazine, Art Price magazine, Art in Culture magazine, Art Price magazine, Art and People magazine, and selected for Woori Bank of Korea's 2018 VIP Calendar.
Seung Lee received many awards; New York State Governor, Nassau County Supervisor, Suffolk county Supervisor, New Jersey City Mayor, and in 2011, Seung was awarded as "Best International Korean Artist" from Korean Art Association.
Seung has been an invited panelist in National Endowment for the Arts, Maine Fellowship, Decentralization Grants for New York Artists, International Documentary Film Festival, Berkshire Museum, Long Island Museum, Heckscher Art Museum, Islip Art Museum, International Nature Art Biennial, etc.