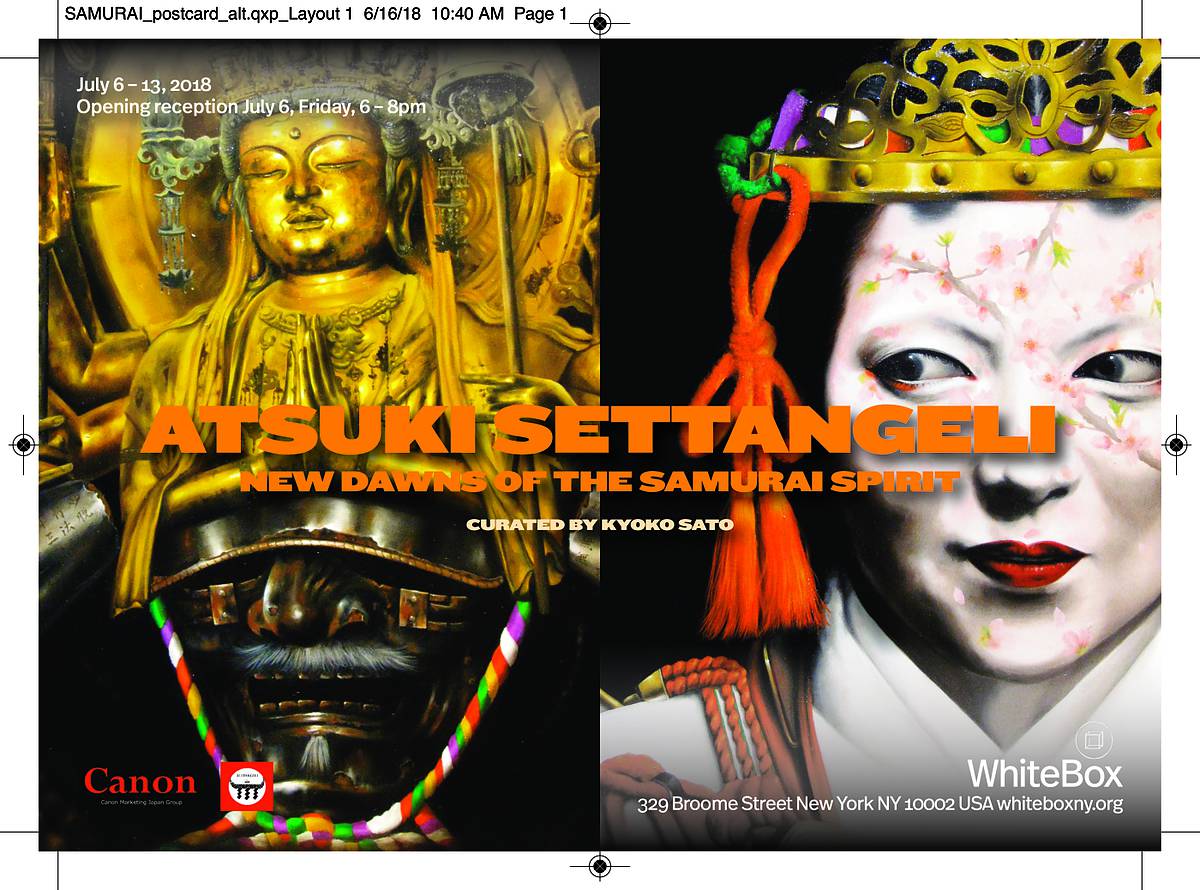 ATSUKI SETTANGELI: NEW DAWNS OF THE SAMURAI SPIRIT Curated by Kyoko Sato
July 6 – July 13, 2018
11 – 6PM
Opening Reception: July 6, 2018 6:00pm Exhibition Dates: July 6 – July 13, 2018
The way you live life and what your aim is in life are the two main tenets embodied in the essence of the exhibition: New Dawns of the Samurai Spirit by Atsuki Settangeli. The artist posits those questions anew to the people of New York as a scaffold to ponder and fathom the way Samurais' lives symbolize a unique aesthetic evident in the displayed paintings.
Samurai were the Japanese warriors who existed from 10th to 19th centuries, ruling much of Japan as politicians. According to the artist, they lived their lives following the Six Virtues: Filialness, Loyalty, Fidelity, Justice, Charity, and Courtesy. Samurai Spirit represents a most noble thought, Samurai could give up their lives to pursue these virtues alone. Their intense and stoic way of life helped create a uniquely Japanese aesthetic. Whenever Atsuki looks at Samurai armor, he experiences unique temper, fear and awe as well as a high sense of spirituality akin to the experience acquired in contemplating the statue of a revered Buddha, bringing forth an auspicious sensation as if the armor is reproaching his fickle way of living.
Bringing back Samurai Spirit to the present world, the artist questions modern life and its dependence on capitalism. Money or materialism never ruled Samurais' lives, their commitment to spirituality and the Six Virtues always dominated their intent and value. As an artist, Atsuki uses his entire soul, heart and life-force to fully focus on his artistic expression. Like a Samurai, he does not care about power, money, or even honor, though his soul screams beyond sound.
After a few early iterations in his painting approach, it was Yoko Ono, who, upon seeing his new and exquisite Samurai paintings at her Dakota House in 2010, suggested to Atsuki to not cease painting Samurai. Influenced by such tall order and trust, imbued with Samurai high spirit, the artist made a choice to make the Samurai series his eternal challenge setting up this project as a lifetime chore regardless of fame, money or other worldly tribulations.
Conspicuously, for Settangeli's exhibition at WhiteBox and at the insistence of curator Kyoko Sato in the 'Me Too" moment, the artist has created his first paintings of female Samurai based on true legends. Though the age of Samurai was led by men, there were some outstanding female Samuraiof high ideality; Tomoe-gozen, concubine of Yoshinaka Minamoto; PrincessKai, concubine of Hideyoshi Toyotomi. Endowed with high-minded passion, both fought in the pursuit of righteousness.
About Atsuki Settangeli Atsuki Settangeli was recognized for his painting at the early age of 16, when he was awarded the Grand Prix at the 34th All-Students Oil Painting Competition in 1984. He studied painting at Tama Art University in Tokyo from 1986 to 1990 under Keiji and Soko Usami. Before beginning to produce the series Samurai Spirit in 2010 at the suggestion of Yoko Ono, Atsuki Settangeli painted the series God in Heaven, which eventually, in 2011 was presented as a solo exhibition, God in Heaven: the World of Atsuki Settangeli, at the residence of Japanese Prime Minister Yukio Hatoyama in celebration of the New Year. In 2013, he received first runner-up in a juried exhibition of one hundred artists at Ouchi Gallery in Brooklyn. SAMURAI ART Bugakux Settangei, an event held in 2016 at Sezon Art Gallery in Tokyo, was the most popular event ever. Atsuki Settangeli's works have been exhibited in the Tokugawa Museum of Art, and are held in private collections including the Anma Collection and the permanent collection of Sumo wrestler Hakuo, 69th Yokozuna.
For press inquiries, please contact press@whiteboxny.org
Organized by
WhiteBox
Contact
press@whiteboxny.org