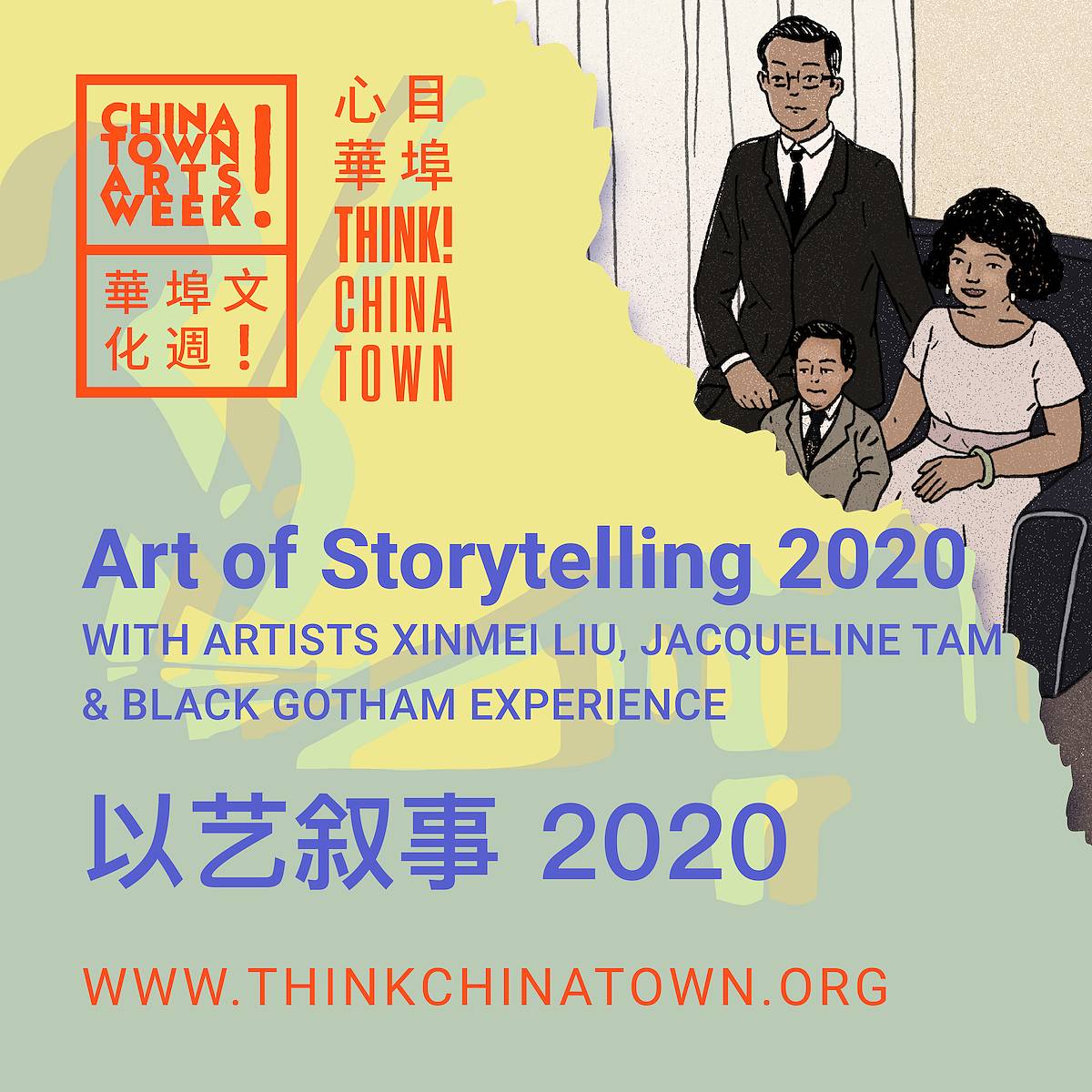 Presentation
Art of Storytelling 2020 with Artists Xinmei Liu, Jacqueline Tam & Black Gotham Experience 以艺叙事 2020
Sunday, October 25, 2020
8 – 9:15PM
Stories shape how we see the world around us and how we see ourselves. As the culminating event for 2020's Chinatown Arts Week, T!C is proud to present three new pieces that bring storytelling and art together in powerful ways.
We've commissioned Xinmei Liu & Jacqueline Tam to create animated illustrations to accompany two family's stories edited from oral histories recorded at the StoryCorps Listening Booth early this year. These stories bring us into the everyday lives of people who have long called Chinatown home and challenge us to reimagine how we collectively remember and honor the stories of our communities.
"Grand Rising'' is a fashion story about Domingo, one of the first Black landowners in New Netherland circa July 13th, 1643 who lived in the south eastern corner of current day Chinatown. This commission is a duet between Kamau Ware, founder of BGX, and Charles Johnson, a model/stylist & visual artist who plays Domingo in the BGX Universe.
All of these projects further our discussion on how we can bring our communities into the fold as integral, active participants in the telling of their own stories? And how we can engage the larger community in this collective remembering?
This program will be held on Zoom. Please register for this event to receive the link. We'll send out the link an hour prior to the event. Slots are limited, so please register ahead of time.
---
CHINATOWN ARTS WEEK is a festival celebrating the cultural richness of Manhattan's Chinatown.T!C has produced several cultural events throughout the week, all of them are free to the public. By presenting grassroots Chinatown artists and emerging Asian American artists in the same context, we hope to bring the generations together and connect with a wider arts audience. ChAW also highlights cultural happenings presented by our neighbors, to increase awareness of Chinatown's cultural assets. Beyond this week, we hope that visitors and neighbors alike will recognize and engage more in Chinatown's cultural offerings.
Think!Chinatown is a 501©(3) non-profit based in Manhattan's Chinatown. Our mission is to build intergenerational community through neighborhood engagement, storytelling & the arts. We amplify the voices of our neighbors & advocate for equity in resources for Chinatown, honor histories that represent us & value intergenerational learning, and present grassroots arts of Chinatown & emerging Asian-American artists in context of each other. Think!Chinatown is here to listen, to respond, and to build Chinatown's capacities as a strong & vibrant immigrant neighborhood of NYC. Find more about T!C and Chinatown Arts Week at: https://www.thinkchinatown.org/
Chinatown Arts Week 2020 is made possible in part with public funds from Creative Engagement, supported by the New York State Council on the Arts with the support of Governor Andrew Cuomo and administered by LMCC. It is also funded, in part, by a grant from the NYC & Company Foundation, Con Edison, and contributions from many generous business and individual supporters like you!