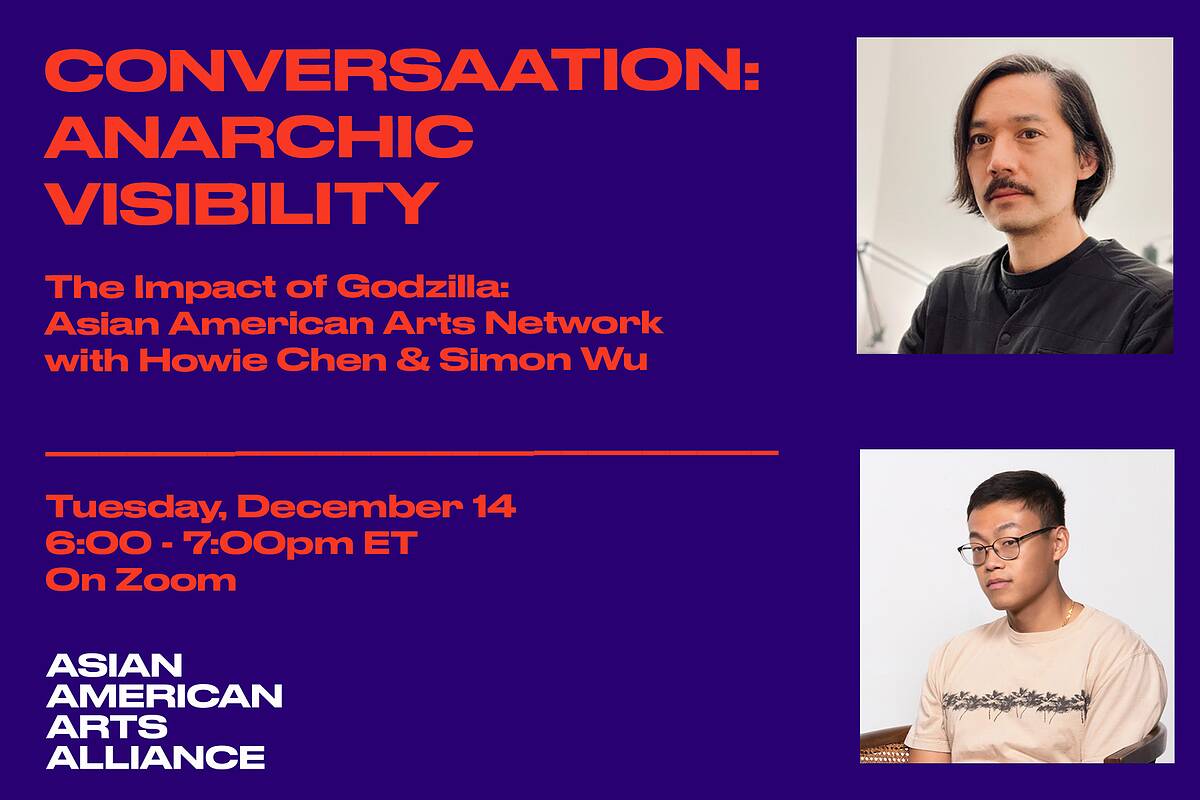 ConversAAtions
Anarchic Visibility (The Impact of Godzilla: Asian American Arts Network)
Tuesday, December 14, 2021
6 – 7PM
On the recent publication of Godzilla: Asian American Arts Network 1990-2001 anthology detailing the trailblazing Asian artists collective, editor Howie Chen and curator and 2019 Van Lier Fellow Simon Wu discuss possibilities for post-visibility politics in contemporary art today.
Godzilla: Asian American Art Network was formed in 1990 to support the production of critical discourse around Asian American art and increase the visibility of Asian American artists, curators, and writers, who were negotiating a historically exclusionary society and art world. The conversation will highlight the critical genealogies embodied by the art group and connect it to present day institutional conditions in which artists demand new complexities beyond sheer visibility.
"The stakes of visibility have always been about participating in a shared reality— the right to exist in the public sphere. The invisibility of marginalized people in the visual arts has meant a double exclusion, from both the aesthetic and political domains—a disempowerment based on the foreclosure of specific symbols and bodies in mainstream spaces. Even when opportunities are granted, the quality of visibility is more important than the sheer amount of exposure—to be on display is not as valuable as the ability to appear on one's own terms. It is the difference between being the object of another's gaze or a free agent in control of one's self-disclosure." —Howie Chen, Godzilla: Asian American Arts Network 1990-2001
Godzilla: Asian American Arts Network 1990–2001 (Primary Information), edited by Howie Chen, is a comprehensive anthology of writings, art projects, publications, correspondence, organizational documents, and other archival ephemera from the trailblazing Asian artist collective. Founded by Ken Chu, Bing Lee, and Margo Machida, Godzilla made exhibitions, publications, and community collaborations that sought to stimulate social change. Expanding into a nationwide network, the group confronted, among other issues, institutional racism, Western imperialism, anti-Asian violence, the AIDS crisis, and Asian sexuality and gender representation.
If you need ASL interpretation for this event, please email pson@aaartsalliance.org at least one week prior to the event.
Howie Chen is a New York–based curator engaged in collaborative art production and research. A founding director of Chen's, a townhouse gallery in Brooklyn, he has held curatorial roles at the Whitney Museum of American Art and MoMA PS1. His writings have been published by Primary Information and Badlands Unlimited and have appeared in magazines such as Artforum, Frieze, and Art in America. With artist Mika Tajima, he formed New Humans, a moniker for collaborations with musicians, artists and designers. He was the Jane Farver Memorial curator in residence at the International Studio & Curatorial Program and a board member of W.A.G.E. (Working Artists and the Greater Economy). As a partner in curatorial consultancy Chen & Lampert, Chen co-publishes an advice column appearing monthly in Art in America. He is currently on the faculty of the NYU Steinhardt School.
Simon Wu is a writer and curator based across Brooklyn and Philadelphia. He currently serves as Curator and Program Coordinator with the Racial Imaginary Institute and is an alumnus of the Whitney Independent Study Program. Simon was the recipient of A4's 2018 Van Lier Fellowship in Visual Arts Curation.