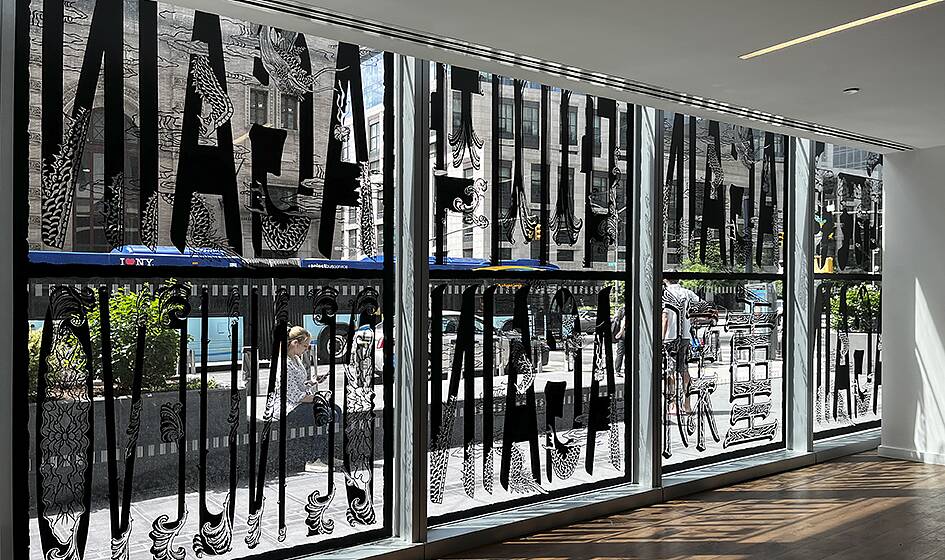 Exhibition
AGAIN:다시시작, a window installation by Seongmin Ahn
July 7 – August 12, 2022
12AM
The Anya and Andrew Shiva Gallery is pleased to announce the launch of our Windows on 11 program. This program will present window installations during the summer months that will leverage the gallery's large-scale windows that face 11th Avenue. Our inaugural exhibition features the work by Seongmin Ahn, entitled AGAIN:다시시작. This installation was made possible in part with a grant from Café Royal Cultural Foundation.
Ahn's ongoing public project AGAIN, which was originally created in response to the extreme lock down in 2020, evokes a shared determination to reestablish normalcy after the pandemic and exemplifies her interest in public engagement and cultural inclusiveness. In this series of billboards, murals, and posters, the word "AGAIN" is translated into multiple languages, at least two of which are displayed together each time, in order to reach out to diverse ethnic groups.
Seongmin Ahn holds two M.F.A. degrees, one in ink painting from Seoul National University and the other in mixed media from the Maryland Institute College of Art. Ahn has developed a working process by which she begins with traditional forms and themes that she then extends into multi-disciplinary and multi-media practices by adopting science, technology, and multiple cognitive models. Her cross-cultural and cross-disciplinary approach enhances the viewers' ability to empathize and engage. As an active participant in the contemporary art scene in New York and East Asia, she has exhibited work at such major venues as the National Museum of Modern and Contemporary Art (Seoul), Hudson River Museum, the Charles Wang Center at Stony Brook University, and Hello Museum (Seoul). She has received a number of funding awards, including two Pollock Krasner Foundation grants, an AHL foundation artist grant, and a Café Royal Cultural Foundation grant. Her work has been reviewed in The Washington Post, the Philadelphia Inquirer, The Baltimore Sun, The Plain Dealer, among others.