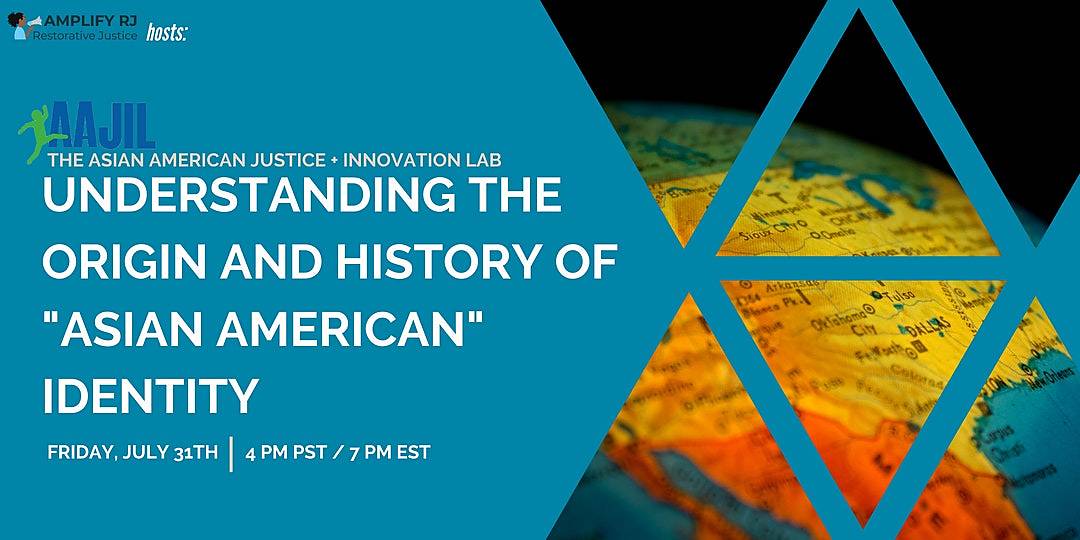 Webinar
AAJIL: Understanding the Origin & History of "Asian American" Identity
Friday, July 31, 2020
7PM
Pt. 1 of Asian American Justice + Innovation Lab's (AAJIL) Community Racial Justice Training Series
Join us for AAJIL's core community racial justice trainings hosted by Amplify RJ.
7/31: Understanding the Origin and History of "Asian American" Identity
This session explores the origin and history of "Asian American" identity, both as a racial construct and as a political movement. Run Time (2 hours)
All are welcome. We offer these trainings in order to equip you with histories and critical frameworks that can deepen the work of antiracism in your lives and in your communities. This four-part series intentionally integrates what is often left out of general racial justice education: AAPI experiences and decolonial values. They represent our beliefs and values as an organization and are the foundation for organizing emergent community-led labs for mutual care, community-building, collaboration and innovation.
The facilitator for this series is AAJIL's founder, Dr. Sandra So Hee Chi Kim. She is an adjunct professor of race and ethnic studies at Cal State LA and a visiting scholar in USC's Department of American Studies and Ethnicity. Her research explores the intersections of race, global coloniality, migration, and culture. Her articles have appeared in Diaspora: A Journal of Transnational Studies, Positions: Asia Critique, Korean Studies, Discourse: Journal for Theoretical Studies in Media and Culture, and Occasion: Interdisciplinary Studies in the Humanities. She is currently working on a book manuscript entitled The Kinship of Empires: Transpacific Coloniality and Korean Historical Trauma.
The Asian American Justice + Innovation Lab is a community racial justice incubator committed to education, community-building, and innovation for promoting justice, radical love, and emergence.
www.aajil.org (website coming soon)
https://www.instagram.com/aajil_org/
Amplify RJ exists to teach people the origins, philosophy, practices, and values of Restorative Justice by sharing knowledge across digital platforms, providing interactive learning experiences, and connecting people doing the work in various contexts around the world.
https://www.instagram.com/amplify.rj/
Donations for this program will help the Asian American Justice + Innovation Lab with start-up costs and program development.