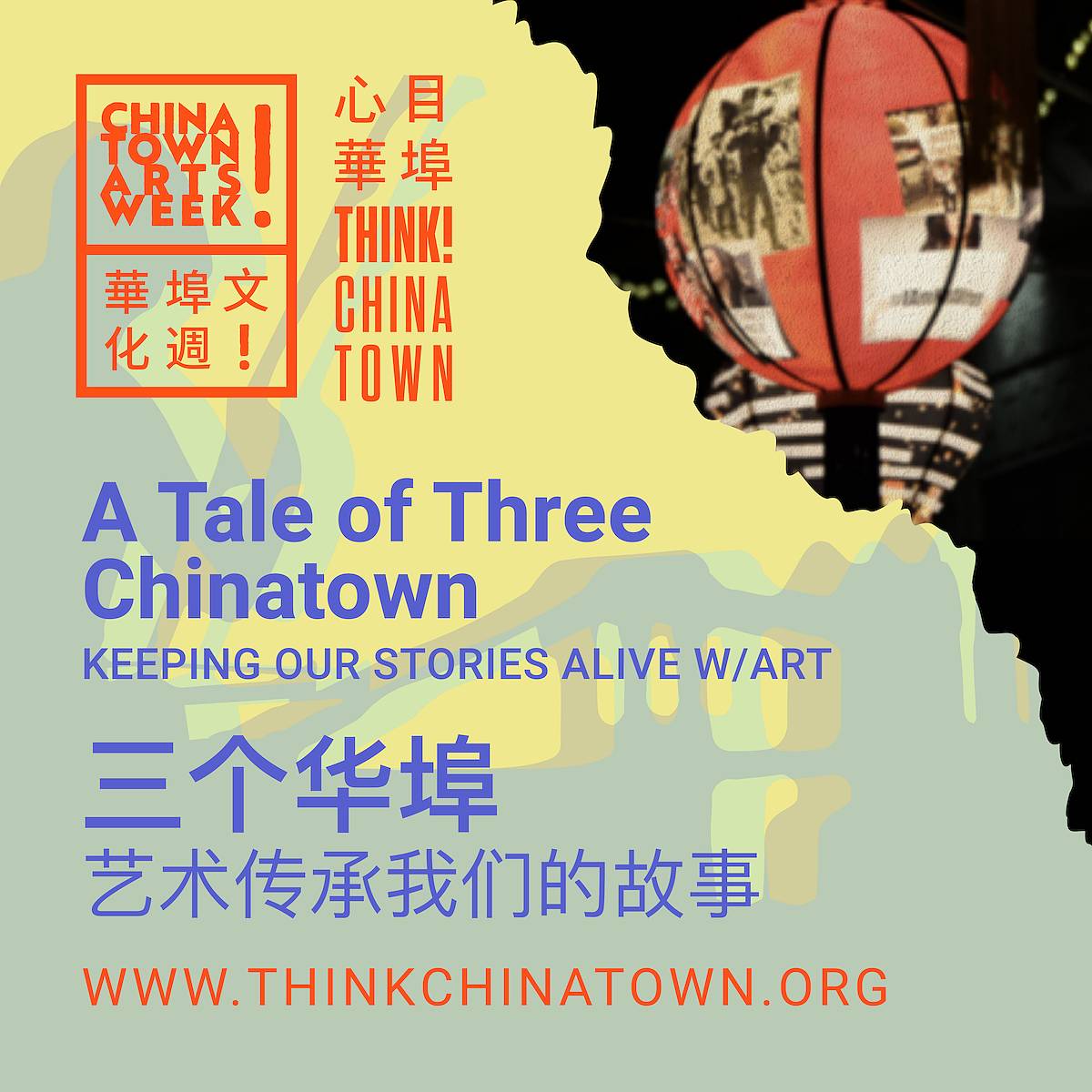 Panel Discussion/Talk
A Tale of Three Chinatown: Keeping Our Stories Alive w/Art 三个华埠: 艺术传承我们的故事
Sunday, October 18, 2020
2 – 3:30PM
The 1882 Foundation joins Think!Chinatown in the opening days of Chinatown Arts Week 2020 (https://www.thinkchinatown.org/arts-week) with a special Talk Story event featuring artists from Boston, NYC, and Washington, D.C. who reflect on using multiple mediums in storytelling.
Panelists
Yin Kong, Director/Co-founder of Think!Chinatown, is a community-based designer living and working in Manhattan's Chinatown. Her work is to keep Chinatown a vibrant place of intergenerational learning, cultural production and civic engagement.

Jenn Low is a landscape architect who works at the intersection of design and public history. She is working on a series of projects with the 1882 Foundation that aim to amplify the voices and perspectives of Washington, D.C.'s Chinatown and increase the visibility of the people that are subject to the forces of gentrification.

Yu-wen Wu is an interdisciplinary artist based in Boston, MA, whose work lies at the intersection of art, science and politics. Her artworks include site-specific video installations, large scale drawings, sculpture and public art, frequently engaging the community.

Shani Shih is an artist based in Washington, D.C. Her art includes multimedia painting and illustration, influenced by street art, graffiti, and hip-hop. Shani is the leader of 1882
Foundation's Chinatown Art Studio.
Zoom Link: https://us02web.zoom.us/meeting/register/tZEsdOGpqTojHtRgYKxiagYJKGSieI03dSHj
---
CHINATOWN ARTS WEEK is a festival celebrating the cultural richness of Manhattan's Chinatown.T!C has produced several cultural events throughout the week, all of them are free to the public. By presenting grassroots Chinatown artists and emerging Asian American artists in the same context, we hope to bring the generations together and connect with a wider arts audience. ChAW also highlights cultural happenings presented by our neighbors, to increase awareness of Chinatown's cultural assets. Beyond this week, we hope that visitors and neighbors alike will recognize and engage more in Chinatown's cultural offerings.
Think!Chinatown is a 501©(3) non-profit based in Manhattan's Chinatown. Our mission is to build intergenerational community through neighborhood engagement, storytelling & the arts. We amplify the voices of our neighbors & advocate for equity in resources for Chinatown, honor histories that represent us & value intergenerational learning, and present grassroots arts of Chinatown & emerging Asian-American artists in context of each other. Think!Chinatown is here to listen, to respond, and to build Chinatown's capacities as a strong & vibrant immigrant neighborhood of NYC. Find more about T!C and Chinatown Arts Week at: https://www.thinkchinatown.org/
Chinatown Arts Week 2020 is made possible in part with public funds from Creative Engagement, supported by the New York State Council on the Arts with the support of Governor Andrew Cuomo and administered by LMCC. It is also funded, in part, by a grant from the NYC & Company Foundation, Con Edison, and contributions from many generous business and individual supporters like you!