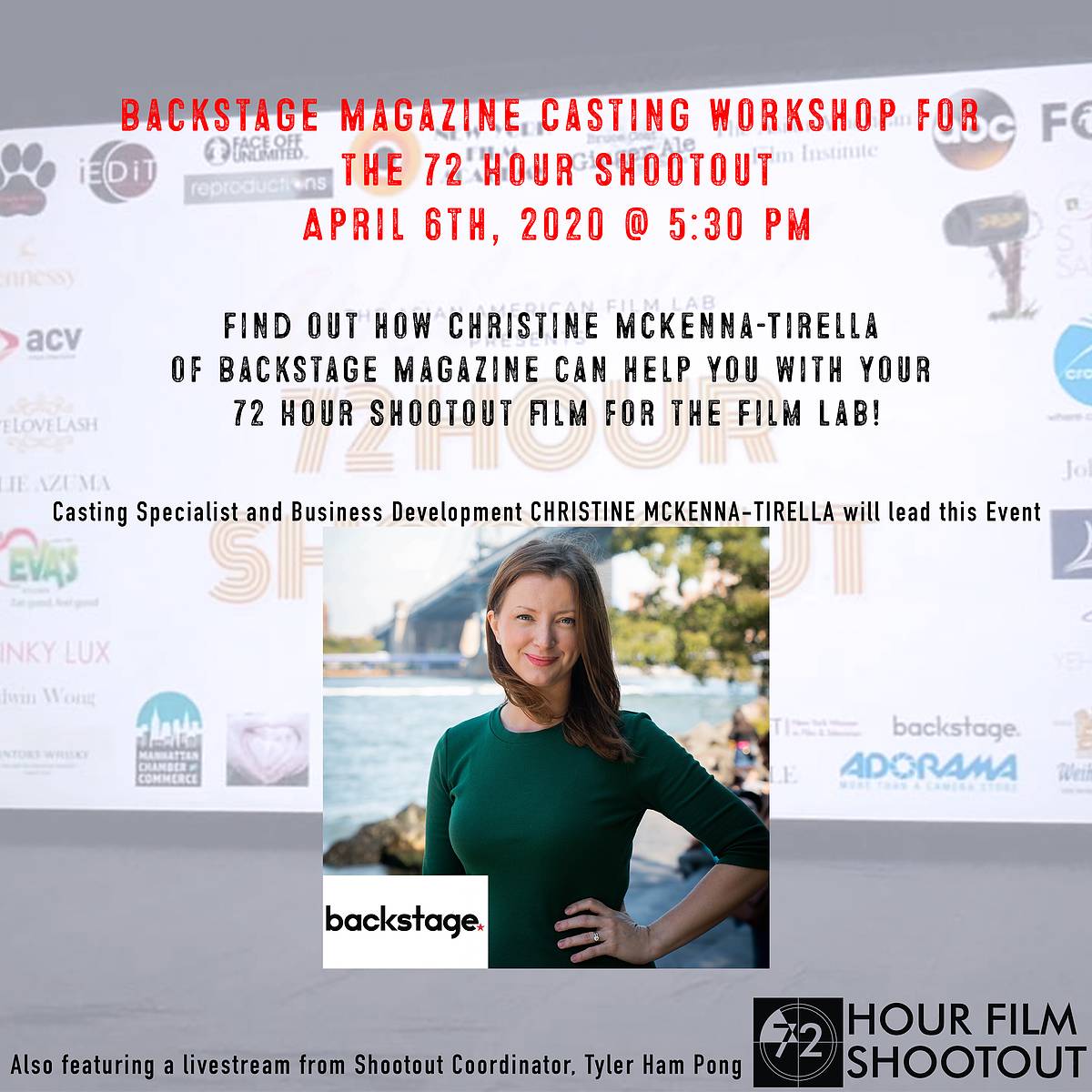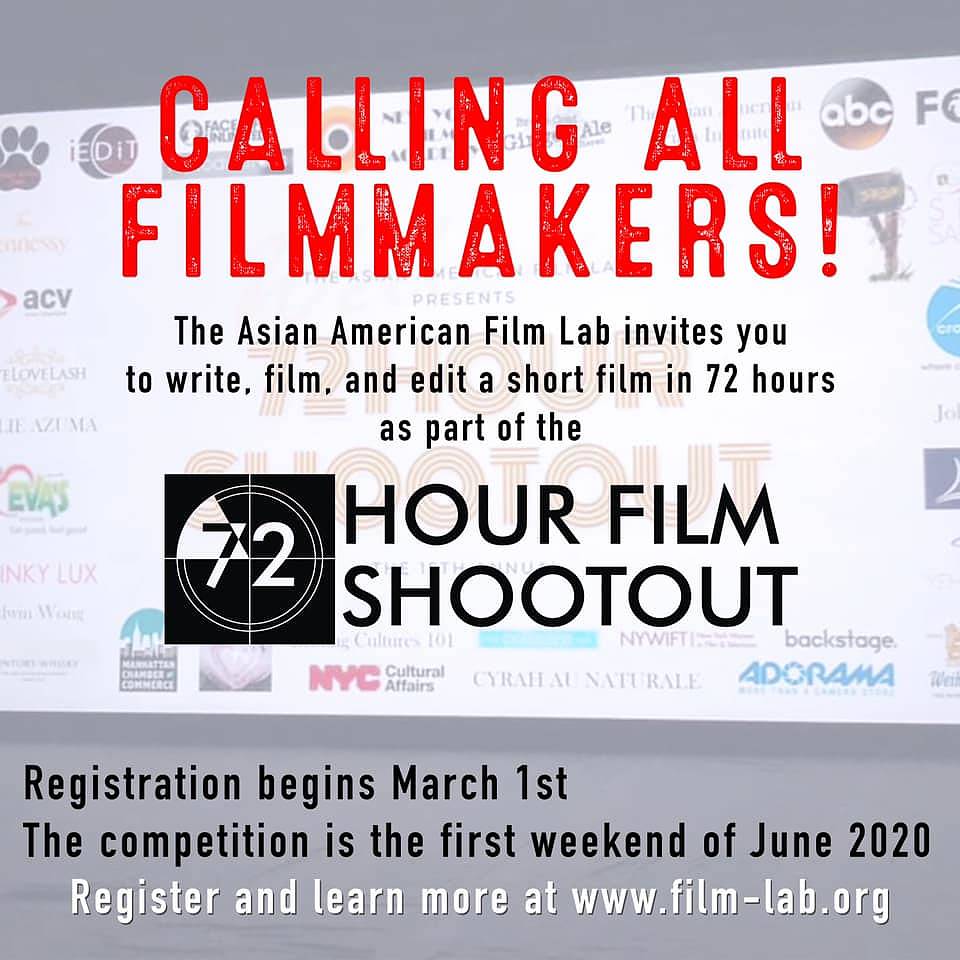 Presentation
72 Hour Shootout Workshop Featuring Backstage Magazine: NEW YORK
Monday, April 6, 2020
5:30 – 7:30PM
The Film Lab is delighted to be partnering yet again with Backstage Magazine to support ethnic and gender parity in the arts through the Film Lab's annual 72 Hour Shootout filmmaking competition, an global filmmaking competition for everyone from novices to established filmmakers. Backstage will be conducting an intensive workshop, led by Christine McKenna-Tirella, to teach filmmakers, step-by-step, how to utilize all the resources for free (a special code for free services from Backstage Magazine will be given to attendees at the event and to those who register for the 72 Hour Shootout filmmaking competition). In the 72 Hour Shootout, filmmaking teams are given a common theme at the start of the Shootout (usually 8pm EST, the first Thursday of June) and then have 72 hours to write, shoot, edit, and complete short films up to five minutes in length. For almost two decades, the Film Lab and the Shootout have provided a platform for faces, voices and stories too often marginalized, whitewashed or silenced by mainstream media. Registrants can obtain screen tests and mentorships from major TV networks and established industry professionals to help develop their careers and the top ten films screen at the AAI Film Festival, on the TV series "Film Lab Presents," and are promoted online via AAFL TV. Every year, registration opens online in MARCH and the Film Lab runs a series of workshops between March and June, free for registrants, to teach basic filmmaking skills and help people network and form teams. The events are livestreamed for registrants around the globe. The actual 72 hours of filming takes place in June with the winning films premiering at the Asian American International Film Festival in July under the auspices of and in collaboration with Asian CineVision. Teams compete for access to a year of free educational and networking events, mentorships with executives at NBC, ABC, and more, cash, prizes and the chance to have their films screened at film festivals, both nationally and internationally. The competition creates a valuable opportunity for filmmakers of color – focusing on Asian American filmmakers – and women to demonstrate their talent, gain exposure in the entertainment industry and impact the visibility of diverse stories and characters in film. Past Judges include hip hop icon Russell Simmons, producer Teddy Zee, ABC Primetime Casting Director Marci Phillips and playwright David Henry Hwang, among others.
About Christine McKenna-Tirella:
Christine McKenna-Tirella is the NY Casting Specialist at Backstage. Before Joining the magazine and online platform, she worked extensively in a variety of mediums including Commercials, TV, Film, Theatre at the high profile offices of Stewart/Whitley Casting, Harriet Bass Casting, Telsey+Co, and Paladino Casting. She is a proud Alum of AADA campus of New York, and holds an LLB in Law from Queen's University Belfast. She is passionate about all things Theatre, TV, Film, Fitness and pop culture.
To register and learn more about the Film Lab's 72 Hour Shootout, please visit:
www.film-lab.org
www.Facebook.com/72HrShootout
© 2020
The Film Lab and the 72 Hour Shootout are Registered Trademarks of the Film Lab and may not be used without the Film Lab's express written consent.