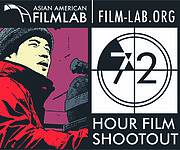 72 Hour Shootout 2019 is Here!
March 8 – June 3, 2019
All Day
Compete in the 2019 72 Hour Shootout and win cash, network TV mentorships and much more! Film lab will be offering how-to workshops between now and June and, on June 6, 2019, a theme will be announced at 8pm EST on which all films must be based! Filmmakers then have 72 hours to complete films of 5 minutes or less. Judges include ABC's Executive Director of Casting! Like Facebook.com/72HrShootout [facebook.com] to learn more and register at https://form.jotform.com/90588438090162?fbclid=IwAR1D_ObRUW7ByHBaCUWhI7j5ZTX9b8T23YsF8wjZWsZsw47EZmShBCgmBSg [form.jotform.com]. The top ten films screen at the AAInternationalFilmFestival!
Organized by
Asian American Film Lab
Contact
shootout@film-lab.org