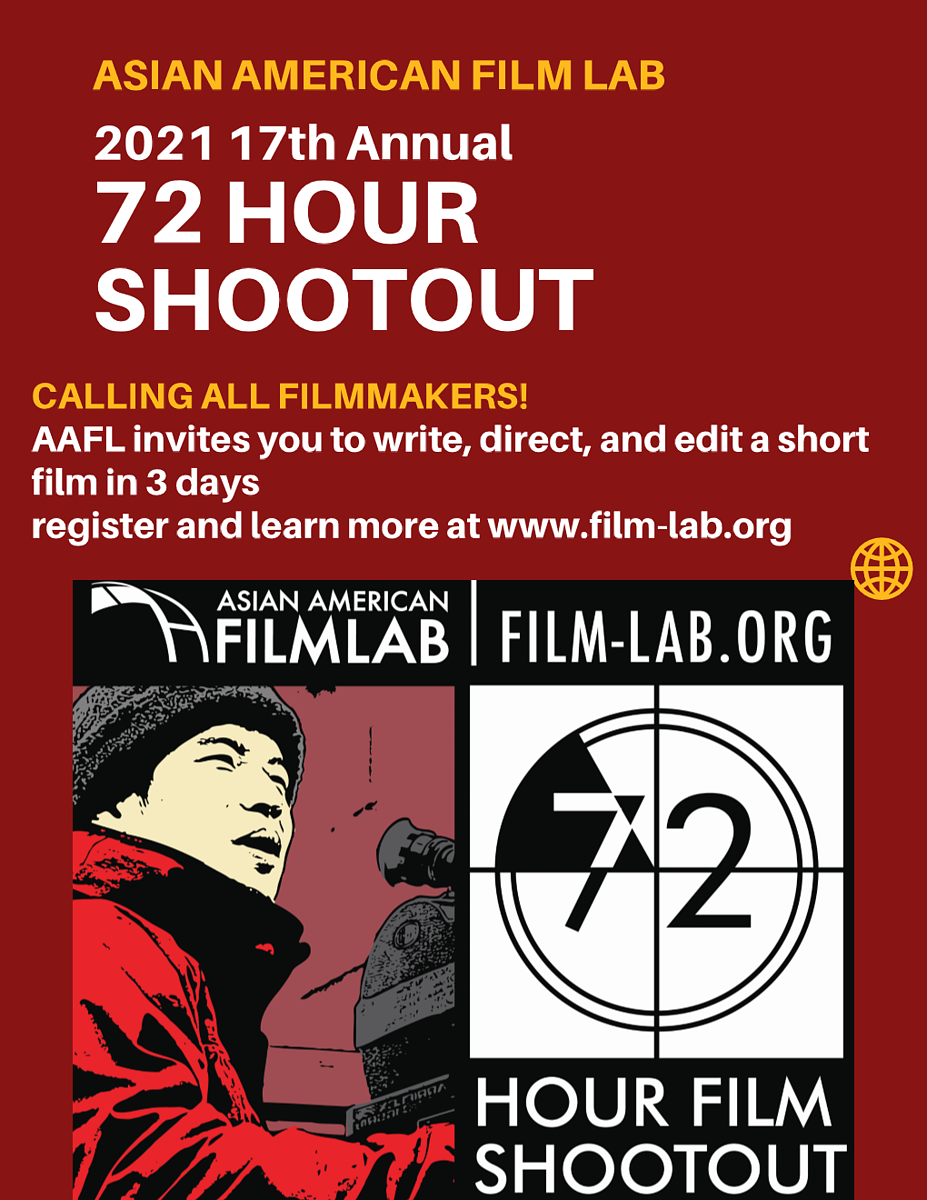 Fair or Festival
2021 72 Hour Shootout Registration OPEN!
March 1 – June 3, 2021
12AM
A CALL FOR ENTRIES! THE 17th ANNUAL 72 HOUR FILM SHOOTOUT HOSTED BY ASIAN AMERICAN FILM LAB AND ASIAN CINEVISION
Celebrating diversity and artistic empowerment, the 17th Annual 72 Hour Film Shootout ("Shootout") returns this summer under the auspices of and in collaboration with Asian CineVision. The Shootout is a worldwide competition in which filmmaking teams are given a common theme at the start and then have 72 hours to write, shoot, edit, and complete short films up to five minutes in length.
Teams compete for prizes and the chance to have their films screened at the prestigious Asian American International Film Festival ("AAIFF"), now in its 44rd year and New York's leading festival for independent Asian and Asian American film and video, and the first and longest-running U.S. festival of its kind. The winners are also being offered top-tier mentorships and all participants get to have their talents and films showcased in front of esteemed judges from ABC, NBC, and other entertainment powerhouses such as Marci Phillips (Executive Director of Casting for ABC Primetime) and John C. Woo (Executive Director for Asian CineVision). As an integral part of AAIFF, the Shootout celebrates the creativity and genius of the directors, their casts and crews as they share stories by, about and for Asian Americans and other filmmakers of color with the world.
AAIFF has played a vital role in discovering and nurturing such acclaimed talent as Wayne Wang (THE JOY LUCK CLUB), Ang Lee (CROUCHING TIGER, HIDDEN DRAGON, BROKEBACK MOUNTAIN), Mira Nair (THE NAMESAKE), Zhang Yimou (HOUSE OF FLYING DAGGERS), Christine Choy (WHO KILLED VINCENT
CHIN?), Steven Okazaki (THE MUSHROOM CLUB), Jessica Yu (PING PONG PLAYA), and Justin Lin (FAST FIVE).
The competition creates a valuable opportunity for Asian American filmmakers and other filmmakers of color to demonstrate their talent, gain exposure in the entertainment industry and impact the visibility of Asian American stories and characters in film.
*One of the Shootout requirements is that at least one key production member (e.g., director, producer or writer) and a principal actor from each team must be of Asian descent.